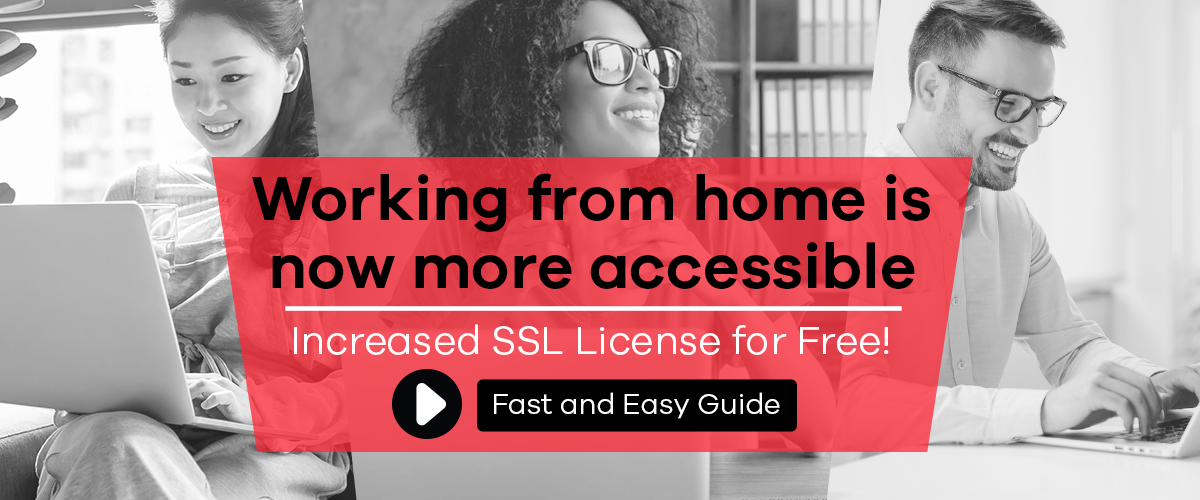 Fast and Easy Guide for Connecting from Home to the Office Network
Virtual Private Network (VPN) technology enables secure connections from home back to an office. Employees working from home can securely access all office network resources as if they were in the office. Applications range from data entry to remotely printing shipping labels for staff in a warehouse.
What's Needed
A working-from-home setup can consist of a VPN firewall box in the office and VPN client software running on each computer, tablet or phone at home. In situations where a PBX IP phone from the office is now being used at home, the solution is to also install a VPN firewall in the home (not required for a cloud-based PBX). The VPN firewall at home will then connect all networked devices in the home, including the IP phone, back to the VPN firewall at the office. In this scenario where a VPN firewall is installed in the home, VPN client software is not needed on computers in the home – the firewall negates that need.

If a firewall is to be used in a home, then the firewall would sit between the cable or DSL modem and the WiFi router.

If the cable or DSL modem and the WiFi router are built together as one, then the Firewall would be connected to the WiFi Router but in this scenario, a firewall with built-in WiFi should be used be used because connections to the WiFi network on the home router will not go through the firewall. In this case the home would have two WiFi networks, one that goes through the firewall to connect securely back to the office and the other one used for regular home network traffic which will not pass through the firewall.


The Zyxel Family of Firewalls
Zyxel offers four families of firewalls to meet varying needs as follows:
Zyxel VPN (Virtual Private Network) Firewall

product family has all of the basics that you need for a working from home solution.


Zyxel USG (Universal Security Gateway) Firewalls

have all of the features of the VPN firewalls plus the ability to detect and block malware like viruses.


Zyxel ATP (Advanced Threat Protection) Firewalls

provide the highest level of security protection. ATP firewalls provide all of the features of USG plus Sandboxing which is an "artificial intelligence" type of capability to detect previously unidentified malware.


| | |
| --- | --- |
| | Zyxel USG FLEX maximizes UTM firewall performance using the power of cloud UTM. USG FLEX offers flexible VPN options (IPsec, SSL or L2TP) to provide flexible secure remote access for remote working and management. |
| | |
| --- | --- |
| | Zyxel NSG (Nebula Security Gateway) Firewalls provide most functions of USG firewalls, but managed through Zyxel Nebula cloud network management platform. NSG Firewalls are designed to be configured completely remotely, ideal for social distancing measures. A Zyxel NSG device can be shipped directly to a home or office, and remotely configured after it has been plugged into the internet. |
| | |
| --- | --- |
| | Mix or match – Zyxel Firewalls will all interconnect with each other. For example, an ATP firewall could be installed in the office while more basic VPN firewalls could be installed in homes. Zyxel firewalls can also work with many other firewall brands because we are certified by ICSA for interoperability. For example, a Zyxel firewall can be used in a home to connect to another brand of ICSA certified firewall in the office. IPSec and SSL can also be mixed on a single firewall – some home users could connect to the office with IPSec while others connect with SSL. |